Pumpkin Bed™ - Glenn Custom Furniture
Pumpkin Carriage Bed Construction Photos
| | | | |
| --- | --- | --- | --- |
| Pumpkin Bed | Pumpkin Bed | Pumpkin Bed | Pumpkin Bed |
| Pumpkin Bed | Pumpkin Bed | Pumpkin Bed | Pumpkin Bed |
| | | | |
| | | | |
| --- | --- | --- | --- |
| Pumpkin Bed | Pumpkin Bed | Pumpkin Bed | Pumpkin Bed |
| | | | |
| | | | |
| | | | |
see photos - download drawings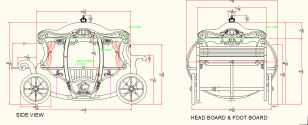 Pumpkin Bed Inspired By Cinderella Princess Carriage Bed. Glenn Furniture is constantly looking for new ideas, creations inspired, unusual shapes. Always on the lookout for the latest trends in furniture design and decoration, we participate in major trade shows in Asia, Canada, the United States and Europe.
Share our findings!
Other Great Products Made By Glenn Furniture
Glenn Furniture manufactures and sells custom wood furniture, wood crafts, wood carvings, Teak outdoor furniture, boats, pergola, gazebos, doors, windows, shutters, modular housing and much more.
Plainly put WE BUILD ALL THINGS WOOD, CUSTOM.
To enquire about any custom made wood product send us an email to
glennfurniture@gmail.com